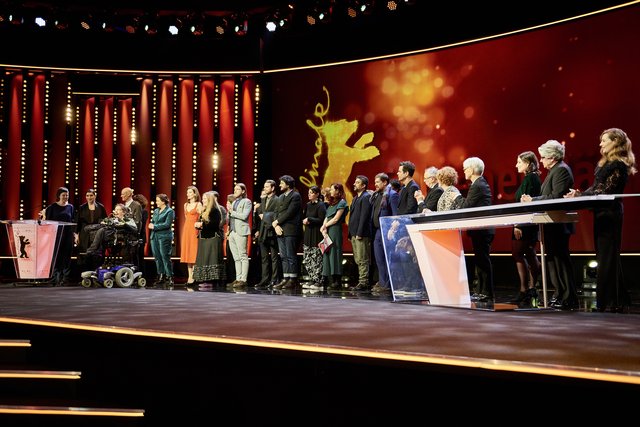 TOUCH ME NOT by Adina Pintilie wins Golden Bear for best feature film and Best First Feature Film Award at 68. Berlinale 2018
Feb. 26, 2018
We congratulate Adina Pintilie, our entire team, and all supporters for winning the Golden Bear and the Best First Feature Film Award with TOUCH ME NOT at the 68. Internationalen Filmfestpiele Berlin 2018!
The Golden Bear came as a great surprise to everyone, but being honored with awards by two independent international juries validates the strength of a film that not only in its narration and form, but also in the way it was made embodies the most important values of our European society: equality and freedom.
As a five party co-production by Romania, Germany, Bulgaria, Czech Republic and France TOUCH ME NOT is a passionate statement for independent film making and its success should inspire independent filmmakers worldwide with confidence in this important part of the cinema universe.
The project first received development and later production funding from MITTELDEUTSCHE MEDIENFÖRDERUNG (MDM). MDM represents the federal states of Saxony, Saxony-Anhalt and Thuringia, where a large part of the scenes shown in the film were shot and many of the actors and non-actors live and work. We want to thank MDM's CEO Claas Danielsen and his predecessor Manfred Schmidt as well as the entire MDM team for their courage and faith in the project which became the first feature film by a female Romanian director to enter the competition program of a category A film festival.
We are very proud that a project which Rohfilm Productions co-developed from the very
beginning became this wonderful film TOUCH ME NOT. We would like to thank Adina and everyone involved in its production. TOUCH ME NOT has become nothing less than one of the world's most discussed films, a deeply human piece of art, relevant and important due to not only its content but also the politics of its making.